The smartwatch is the most discreet way to wear a fitness tracker, masquerading as a regular timepiece but offering much more health monitoring.
But can't you manage that with a tracker? Yes, but a fully-fledged smartwatch does much more. It usually has GPS on board so you can use it for directions while walking in a dodgy part of town late at night, without holding your expensive smartphone vulnerably aloft. It can send texts and emails straight to your wrist so that message you're waiting for is seen straight away. That GPS capability means your outdoor run can be measured exactly and if you connect wireless headphones you can play music from your watch while you run. Oh, and as some models have an electronic sim card inside, you can use it to call a ride to take you home at the end of the run, even if your phone isn't with you.
The heart rate monitor often found on board is good for tracking how fit you are but on some watches it can do more than that, monitoring your heart rate in the background and letting you know if it spots something out of the ordinary: there have already been cases of the latest Apple Watch notifying users they may have a heart issue and suggesting a visit to a health professional. In some of these cases, it seems to have saved lives.
Some watches track your sleep as well, and a few can even silently vibrate your wrist to wake you, without waking your partner, in some cases geared to waking you at the best point in the sleep cycle so you awake refreshed.
Apple Watch Series 4
This is the best Apple Watch yet and the best fitness wearable, thanks to its stunning design, ultimate usability and simple but rich fitness capabilities. Apple has created a three-ring design. The inner ring is blue and ensures you stand at least once an hour. If you've been sitting, you'll get a nudge at 50 minutes past the hour. The middle ring is green: to complete this ring you need 30 minutes of brisk exercise. The outer ring is the toughest to complete. You need to burn a number of active calories during the day. Active calories are the ones you burn in addition to, you know, breathing, eating, talking and so on. You set the target yourself but it can still be a challenge to do it seven days a week.
Fitbit Versa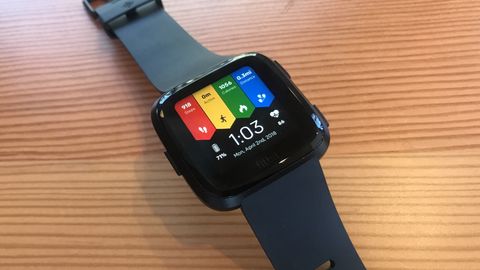 The second smartwatch from Fitbit is slickly designed and elegant. It has much smoother edges and the rounded shape is a big improvement on the Fitbit Ionic which came first. Fitbit is known for its accurate measurements. The Versa is more affordable than the earlier Ionic and, though this is subjective, better-looking.
No surprise that this watch focuses on exercise and fitness, including onscreen workouts and accurate outdoor run tracking, for instance, thanks to the GPS chip. It also has advanced heart-rate monitoring capabilities. You can store songs on the watch as well, to listen via Bluetooth headphones. The Versa is also lightweight enough to wear overnight and has good sleep tracking features. Battery life is three to four days.